Let's see what expert has to say to increase Amazon product reviews & feedback:
Are you a company which is selling products on Amazon? If yes then we are here with some good news for you. No matter what type of product you are selling or how big you are, we are here to make it grow larger.

Amazon rewards sellers, who do things out of the box and also kick out the sellers who perform suspicious things on the site. So, to help you out in all means we are here to give you the best ways to increase your Amazon reviews.

75% of all online buyers consider product evaluations and reviews in their buying decisions. Good and positive reviews always attract customers while making the buy decision. Whether you want to buy a small mobile cover or a washing machine, you firstly check reviews to know about the product.
Keep Amazon's Official Rules in Mind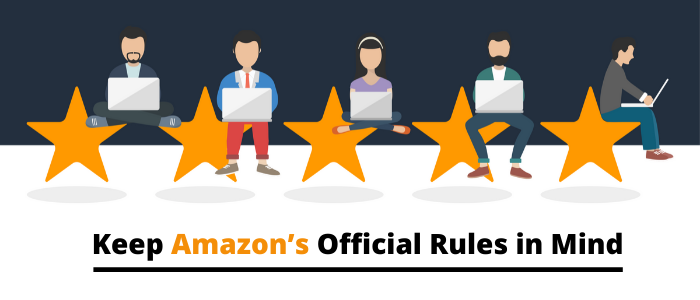 If you want to increase your Amazon reviews then just grasp the whole of Amazon's official rules and then the ball is in your court. You should deeply read all the Amazon's official Rules that even if someone asks you in the middle of your sleep then you can answer it.
When you know that is genuine or what isn't then you will never do anything wrong. It's like wearing a helmet while driving a two-wheeler. And this will take all your worries and tension no matter what the situation it is.
You can read the guidelines by logging into your seller account and if you don't have an account on Amazon and eagerly wanting to read the guidelines so here is an extract.
If you come to the Amazon Vine Program then you can provide free products in exchange for reviews. But avoid offering free products for reviews if you are not in the Amazon Vine Program as per Amazon.
Don't offer money or product in exchange for reviews.
Never write reviews for the products that will benefit you financially.
Never exchange a discount or promotion for reviews, but you can do things like offering coupons but not in exchange for reviews.
Don't involve your friends, family or any biased person to write reviews.
Never comment negatively on any of the competitor's products.
Don't entertain unverified reviews (Reviews written before sales)
There are a lot more, but as we told you this is just an extract of the whole Amazon Guide.
Unfurled Awareness of Your Product or Brand
Make people aware of why they should buy your product instead of your competitor; tell them the reason through Amazon's ecosystem. This is the perfect time when you can offer promotions, discounts, and coupons to increase your sales.
And as we all know as the sales increase the chances of getting higher reviews will also increase. Just keep one thing in mind always offer stellar products, optimizing your listings and photos and responding to customers' comments and questions super-fast.
Try your hand on Amazon Review System
There are some professional and amazing Amazon product Review software out there, which will help you to increase your Amazon reviews tremendously. Giving you an alert on negative reviews to attaining you in a position to grasp the buy box position, you just need to choose the professional Amazon Review management tool.
They will send creative and artistic emails to all your customers and tell them in the most amazing way to write a review so that you will not only earn a product but also built a brand.
Wrapping Up
We hope that the above-discussed points will help you out in increasing your Amazon reviews. The basic step in increasing your Amazon review is to just focus and read out the Amazon provided guidelines. You can also promote your product to get more reviews. And last but not least, Amazon Review System - Who can really help you increase your reviews. Make sure you always choose a professional Amazon Review System to get the best outcomes.
Seller Lion also provide repricer. It helps amazon sellers to achieve buybox more frequently with their unique price algorithm. seller can have 80% possibility to achieve buybox